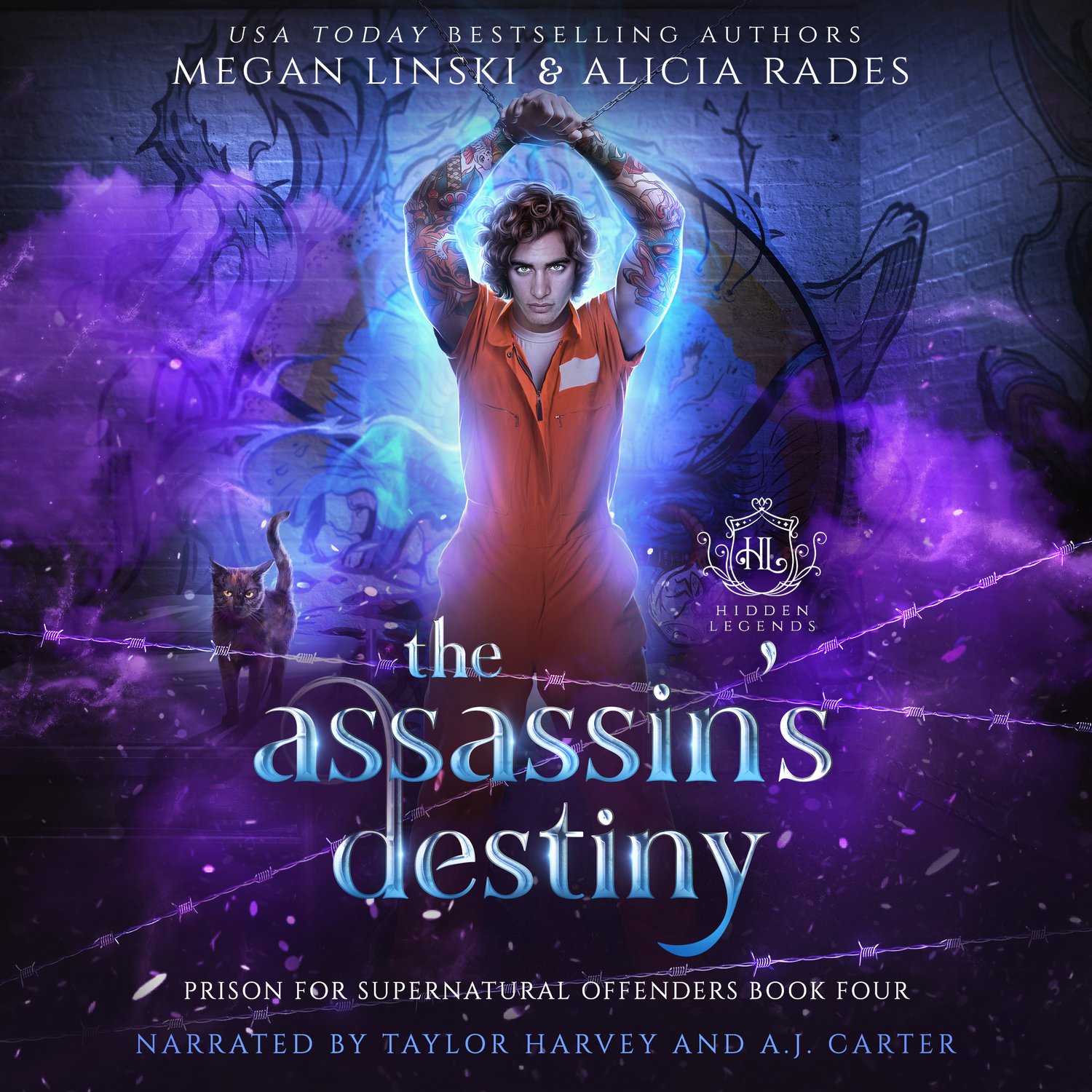 The Assassin's Destiny (Hidden Legends: Prison for Supernatural Offenders Book 4) - Audiobook
All prices are in USD. This is a digital download that can only be accessed through the BookFunnel app. You'll receive an email from BookFunnel after your purchase with a claim code.
Love becomes unchained.
Ava-Marie
Nothing can scare you when you've already died.
Caught between the realm of the living and the dead, I'm not the same person I used to be. I'm darker, crazier… and nothing's going to stop me from ruling over this prison.
The merfolk key is linked to a legendary assassin, and Kallie might be the way to find it. If we're going to save the Elves, my friends and I will have to resort to unsavory methods. I'm getting justice for my past, and taking revenge no matter what the consequences.
My prophecy will test just how far I'm willing to go. If I truly want to stop the end of the world, we'll have to go to the one place every inmate fears…
Cellblock 9.
Charlie
The Warden nearly stole the love of my life away. I'm determined to protect what's mine with everything in me. He thinks he can lock me in this cage, but I'm prepared to show him just what a villain can do.
Our demigod powers grow stronger by the day, and soon, nothing will be able to contain us… contain me. There's nothing I won't do to fulfill my destiny.
One way or another, we're escaping the Institute, and raining hell down on whoever stands in our way.
***
The Villain's Club descends into Cellblock 9 in the fourth installment of the Prison For Supernatural Offenders series. Dark romance and evil schemes ignite at a magical penitentiary full of vampires, shifters, witches, angels, and mermaids, where the Warden wages war and the inmates fight back.
This series takes place in the Hidden Legends Universe, along with the Academy of Magical Creatures series, the University of Sorcery series (by Megan Linski), and the College of Witchcraft series. The Hidden Legends universe features college-aged protagonists attending magical academies, dual points-of-view, disabled and diverse main characters, and steamy, empowering romances. Each series stands on its own and can be read in any order.
Author: Megan Linski & Alicia Rades
Narrator: Taylor Harvey & A.J. Carter
Publisher: Crystallite Publishing LLC
Run Time: 25 hours 33 minutes
Reading Age: 18+
---
Also available in eBook format:
The Assassin's Destiny (Hidden Legends: Prison for Supernatural Offenders Book 4) - eBook