Exposing Magic (Davina Universe: Divine Descendants Duology Book 2) - eBook
All prices are in USD. This is a digital download that can only be accessed through the BookFunnel app. You'll receive an email from BookFunnel after your purchase with a claim code.
Even angels have to answer for their sins.
I'm Cora Marek, and I've royally screwed up. I failed my semester final and exposed the angels and demons to the human world. Luckily, the Alliance is giving me a chance to fix things. If I go on record stating it was all a hoax, I'll be free to return to Harris Academy.
But I'm not sure I've made the right choice. War is mounting outside the academy. The humans are afraid of us, and they want to take us down.
If only we could show them they don't have to be afraid. But Kellan—my partner and the guy I'm hopelessly pining for—insists exposing ourselves is a mistake.
My heart's being pulled in two different directions. But I know I have to do what's right—even if our world goes up in flames.
***
Divine Descendants is a young adult supernatural academy romance series featuring angels, demons, and elemental magic. Divine Descendants takes place twenty-five years following the events of the Divine Fate trilogy. Each series can be read on its own.
Author: Alicia Rades
Publisher: Crystallite Publishing LLC
Print Length: 228 pages
Reading Age: Young Adult
---
Also available in audiobook format: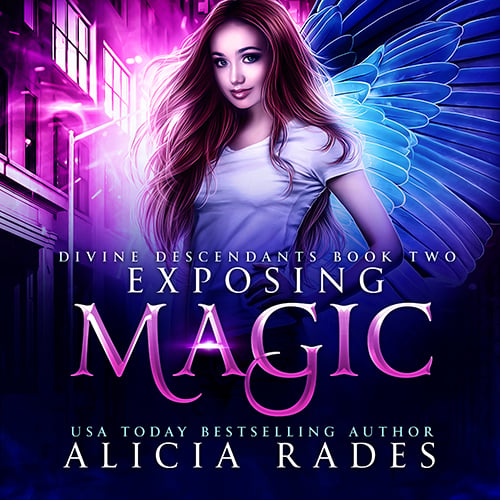 Exposing Magic (Davina Universe: Divine Descendants Duology Book 2) - Audiobook